Forget your local store candy bars, these vegan chocolate peanut caramel bars made with Trupo Treats are absolutely divine! Starting from the bottom, you have a classic chocolate chip cookie made extra special with an extra crunch from our Mylk Chocolate Rice Crunch bars. You have that topped with a smooth, deep caramel and finished with a rich, velvety vegan milk chocolate peanut topping. With a touch of sea salt to garnish, you have bold flavors of sweet, salty, and nuttiness that all work together to give you a toe curling experience with each bite.
Chocolate Chip Cookie Layer —
▢ 1 cup vegan brown sugar, packed
▢ 3 cups all-purpose flour 

▢ 8 oz of a homemade or store bought vegan caramel, room temp
▢ 3 oz roasted & salted peanuts
1. Cookie — Cream butter and sugars. Add flax eggs, vanilla extract, and cooled coffee then mix. Add baking soda, salt, and flour then mix again, combining well. Add chopped mylk chocolate and fold into batter.
2. Preheat oven to 350°F. Grease and line a 9x9 baking pan with parchment. Pour batter into a pan and smooth out evenly. Bake for 20-22 mins or until golden brown. Let cool completely.
3. Caramel — Pour your chosen caramel on top of cookie base and spread evenly. Place in fridge and let set for 30 mins-1hr.
4. Chocolate — Using a microwave safe bowl, melt chocolate. Add peanuts and combine. Let cool to room temp.
5. Pour chocolate on top of set caramel, spread evenly. Place back in fridge and let set for another 30 mins. Once set, remove and cut into desired size then serve. Optionally, sprinkle a pinch of coarse sea salt on each bar before serving.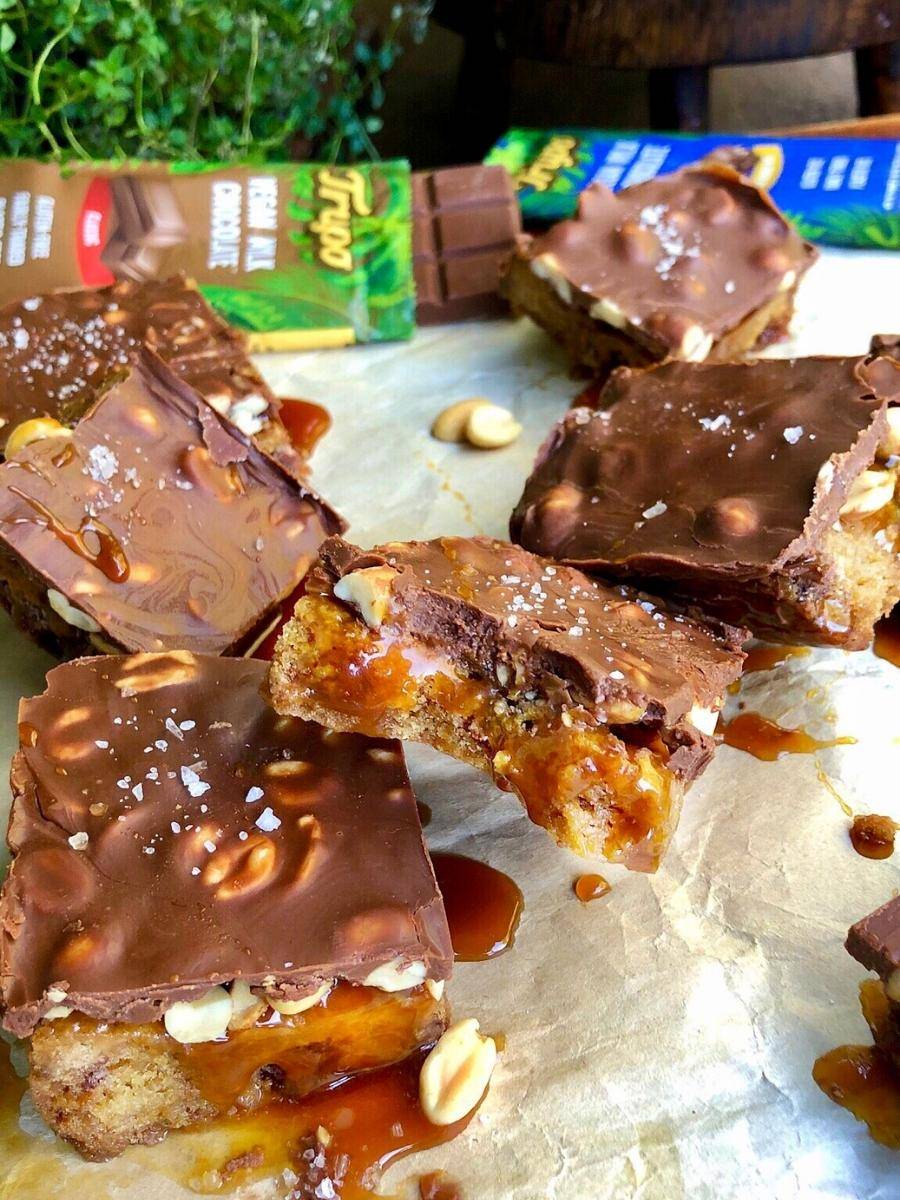 ---
---
WANT TO READ MORE FROM TRUPO TREATS?
SIGN UP TO RECEIVE OUR NEWSLETTER