Recipe & photo by Dede
Wagon wheel biscuits are a British classic and they just got a delicious vegan makeover! Two plain biscuits sandwich together a vegan marshmallow fluff, a homemade strawberry jam, and is covered with a velvety rich layer of Trupo Treats mylk and dark chocolate bars. These bring back the sweetness of childhood memories and can satisfy any sweet tooth.
▢ 150g vegan butter, chilled & diced
▢ 75g vegan granulated sugar
▢ 100g vegan marshmallow fluff
▢ 100g homemade or store bought strawberry jam
1. Mix the flour, salt, and diced butter in a bowl, mixture should resemble pea size crumbs. Add in sugar, vanilla extract, and flax egg then mix together to form a dough. Plastic wrap and let chill in fridge for 30 mins.
2. Remove dough and roll out to 1/8 inch thickness. Using a 3 inch round cookie cutter, cut out 14 cookies (if there's remaining dough, wrap and use for later). Freeze for 10 minutes then bake at 350°F for 10-12 mins or until golden. Let cool for 5 mins.
3. While cookies cool, melt both chocolates in a microwave safe bowl in 30 second increments.
4. Assembly — Place cookies on a wire drying rack. Using a spoon, smear melted chocolate on tops of all cookies. Place in fridge to set. On half the cookies, pipe the marshmallow onto base side.
5. On the remaining cookies, smear the strawberry jam. Sandwich the two together. Carefully coat the sides of cookie with remainder chocolate. Place in fridge to set up again, 7-10 mins. Serve and enjoy.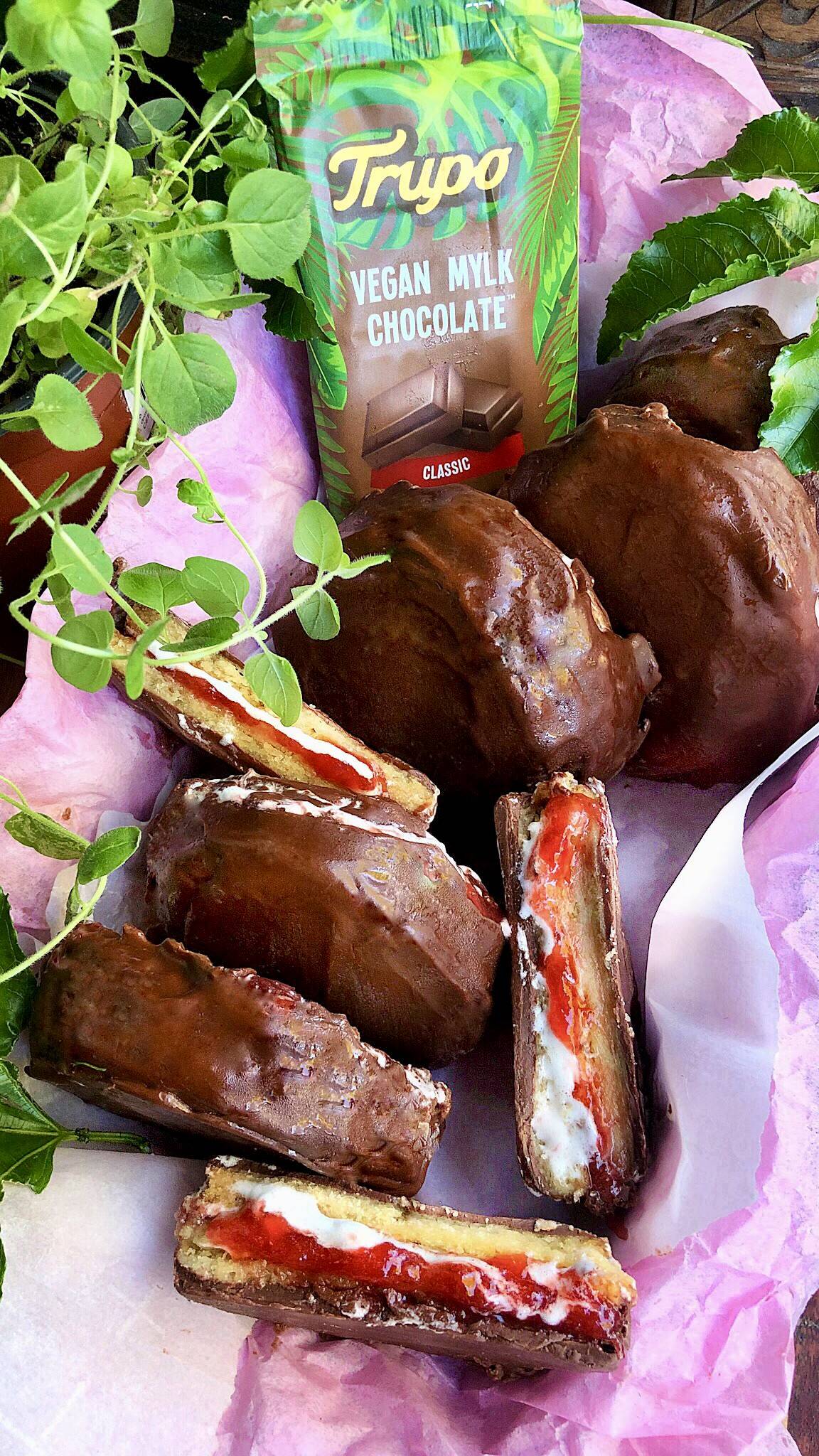 ---